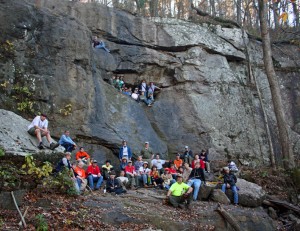 Man, that was a great Ordeal at Camp Jackson. Great food, great people, and we were blessed by good weather up until Sunday morning. We had a total of two-hundred fifteen members and candidates (now members!) come out. We had 107 new members inducted, and 25 members sealed their membership in Brotherhood.
We kicked things off with the Pre-Ordeal ceremony, with the help of ceremonialists from Yuchi, Nunne-hi, and Nacha Sipo chapters. Much thanks to those ceremonialists!
After a night of (some) sleep, we got to work on the thing that the Order's known best for – service. Crews cleared out debris from the roads and trails, cleaned up the dining hall, put up signs, and evened stopped for an opportune picture moment, as seen above.
After lunch and a bit more work, the crews came in for their Ordeal ceremony, and some of the members who had been in for ten months got their Brotherhood. (Much thanks to the Yuchi and Nacha Sipo teams!)
Then we came in for a dinner of various soups and salad, and for a cracker barrel with wings, cookies, cheese, and Toy Story 3. We had a ton a fun just hanging out with everyone.
The next awesome event is the Winter Banquet at Gardendale Mount Vernon United Methodist Church, January 22nd. It starts at 6:30, and, guess what?
It's free!!!
There's going to be awards and dinner and fellowship. You need to be there. Need more info? Check out the Winter Banquet page on the website.
WWW!