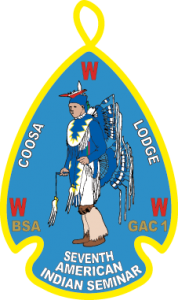 The seventh annual American Indian Seminar is set for next weekend March 16-18, at Camp Comer near Mentone, AL.  The pre-registration deadline has passed, but on-site registration will be open and Arrowmen from all lodges are invited to attend.  We're not serving dinner on Friday, so be sure to eat before you arrive if you're coming then.
We'll have introductory classes on several popular American Indian dance styles, the Order of the Arrow ceremonies, American Indian drumming and singing styles, regalia construction, a live bird of prey presentation, and lots more.  We'll close things out Saturday night with a pow-wow where everyone can show off their new skills.
Click here to download the 2012 Coosa Lodge American Indian Seminar schedule.
If you have any questions, leave a comment here and we'll get it answered as quickly as possible.