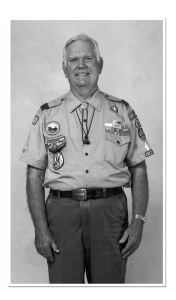 It is with a heavy heart that we announce the death of Mr. Moran Colburn. Mr. Colburn was an institution amongst the members of Achunanchi Lodge, where he served as the Dance Team adviser for more than 25 years and was recognized with the Vigil Honor in 1957.
Mr. Colburn spent 44 summers on summer camp staff, including 39 years at the Camp Comer Trading Post, which was renamed in his honor at the 2009 Coosa Lodge American Indian Seminar. He served as an Assistant Scoutmaster for the 1953 National Boy Scout Jamboree at Irvine Ranch, California.
In addition to the Vigil Honor, Mr. Colburn was recognized with the Silver Beaver and Silver Antelope Awards, the Order of the Arrow Founder's Award, and the James E. West Fellowship Award.
Mr. Colburn became involved in Scouting in 1934 when he joined Troop 29 at the Alabama Institute for the Deaf and Blind. He continued to serve Troop 29 for more than 70 years, touching the lives for more than 1,000 deaf Scouts. He served as Scoutmaster for 47 years, Post Advisor for 37 years, Indian Dance Team Coordinator for 37 years, and Cubmaster for 31 years.
Services will be held at Usrey Brown Service Funeral Home in Talladega. Arrangements will be provided as they become available.