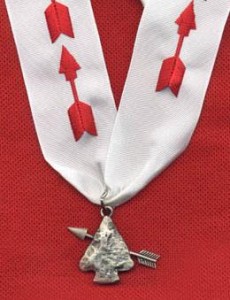 The National Order of the Arrow Committee announced yesterday that two-time Coosa Lodge Chief, two-time Section Chief, and all-around good guy James Tarbox has been selected to receive the Distinguished Service Award at this year's National Order of the Arrow Conference.
From the National Order of the Arrow website:
The Distinguished Service Award was created in 1940 to honor those who rendered service to the Order beyond the lodge level. The award is presented to those Arrowmen who have rendered distinguished and outstanding service to the Order on a sectional, regional, or national basis. The award is presented every two to three years during the National Order of the Arrow Conference.

The award is a sterling silver arrowhead, bearing an arrow pointing upward and to the wearer's right, suspended from a white neck-ribbon upon which are embroidered red arrows. A white square knot embroidered upon red cloth is also available. Presentation of the award is limited; nominations are open to both youth and adult.
James joins Dr. James Flatt and Mr. Keith Swedenburg as the only past or current members of Coosa Lodge to be recognized with this honor. He also has the distinction of being the first "home-grown" member of Coosa Lodge to receive the Award.
James was inducted into Coosa Lodge in 2001 at Camp Sequoyah. He then served in nearly every aspect of the Lodge, including ceremonies, shows, the kitchen, and the trading post, before being elected as Coosa Lodge's only two-term Lodge Chief on his way to back-to-back elections as SR-6S and SR-9 Section Chief.  James' experience with Coosa Shows and his success as Section Chief opened the door for him to serve as the Shows CVC at the 2009 National Order of the Arrow Conference, where he led dozens of Arrowmen in successfully planning and executing four exciting and inspirational arena shows.
For a glimpse of James in action with Coosa Shows, take a look at this "Arrow Ads" video, introducing a new Arrowman to the Vigil Honor.
Other recipients from Section SR-9 include Jordan Hammons and Frank Harper. For a full list of the 2012 recipients, click here to see the announcement on the Southern Region website. For a list of all past DSA recipients, click here to view the full historical list on the National Order of the Arrow website.
Speaking of NOAC … We still have slots available!  If you want to go, our participant cost is officially down to $400. This is actually less than the price charged by National, thanks to our aggressive fundraising efforts.  Coosa Lodge is offering one of the most affordable NOAC experiences in the country, and NOAC is one of the most memorable weeks that many Arrowmen will ever experience.  For more information, or to register and pay online, click here to visit our NOAC info page.