It's that time of year again!  In just a few days, we'll kick off our 2012 Ordeal Season with an Ordeal/Brotherhood weekend at Camp Sequoyah.  Registration opens at 5pm and all Ordeal Candidates are expected to be checked in by 8pm. There's lots to be done at Camp this weekend. Please come out and help us show our new members the true service spirit of our Lodge. The Ordeal schedule will be posted in the next day or so.
If you've been an Ordeal members for 10 months or longer, it's time to seal your membership by attaining Brotherhood.  Be sure to check out our Brotherhood guide on Coosa50.org Click Here and visit OA JumpStart Click Here, then tell the registration staff that you'd like to be a Brotherhood Candidate.
Don't miss out on the newest addition of the NOAC rubber flap fundraiser series coming out this weekend at the May Ordeal!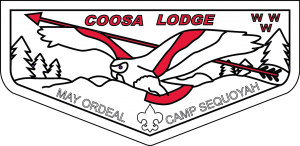 Vigil Honor nominations are due no later than May 24th, then the selection committee will meet shortly thereafter.  Click here to download the nomination form.
Finally, NOAC is coming up quickly.  We're working on lowering the cost even further for our contingent members.  The final cost may even be below the base cost for attending the event, thanks to our fundraiser flaps and auctions.  If you haven't signed up, slots are filling quickly.  For more info and to register online, go to our website Click Here. A NOAC contingent meeting will be held Saturday at Camp Sequoyah. All those registered should plan on attending.