The next Ordeal Weekend is scheduled for September 7-8 (That's just over two weeks from now!) at Camp Comer. Registration opens at 5pm and the Ordeal begins promptly at 8pm. If you are a candidate and can not make this 8pm deadline due to band or football commitments, talk to our Lodge Adviser or Lodge Staff Adviser and they'll try to accommodate you.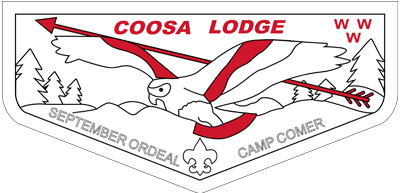 Ordeal Candidates, be sure to check out our Ordeal Info page for everything you need to know about your Ordeal
If you've been an Ordeal member for 10 months or longer, it's time to seal your membership by attaining Brotherhood.  Be sure to check out our Brotherhood guide on Coosa50.org and visit OA JumpStart OA JumpStart, then tell the registration staff that you'd like to be a Brotherhood Candidate.
Don't miss out on the newest addition to our 2012 rubber flap series, available at the upcoming Ordeal (pictured above).
Lodge Officer nominations are due at this Ordeal.  If you plan to run for lodge office, be sure to hand your form to a member of the Key 3 (Chief, Adviser, Staff Adviser) before the end of the weekend.