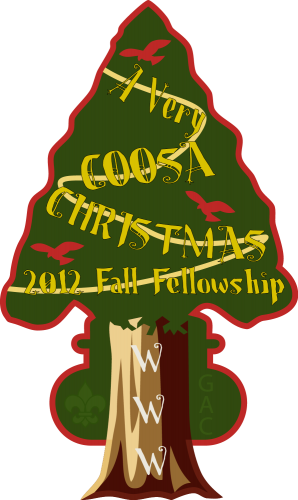 The 14th annual Coosa Lodge Fall Fellowship will take place October 5th through the 7th at Camp Sequoyah near Delta, AL.  With a theme of "A Very Coosa Christmas", this promises to be unlike any event the lodge has ever hosted.
The festivities will kick off Friday night with a tree-lighting ceremony just before the Vigil call-out ceremony, continue into Saturday morning with a Dr. Seuss themed "Whoville" breakfast, and continue throughout the day with a series of events and themes to help join our cheerful spirit with the holiday spirit.
Things will wind down Saturday night with a closing show from Coosa Shows, a holiday cookie party, and more at the Coosa Yuletide Bash!
We'll still have all of the things you've come to expect from one of our Fall Fellowships, including a live patch auction, the aforementioned Vigil call-out ceremony, lodge officer elections, chapter vs. chapter games and competitions, great food, tons of fellowship, and of course plenty of patch trading.
This will be your first opportunity to buy a 2013 Coosa Lodge Event Pass.
If you're a keen vocalist, plan to warm up those pipes and join in with the Coosa Carolers as they spread cheer throughout the camp with some of their favorite holiday classics.
There will be limited platform tents available, so bring a tent, just in case.
A full schedule and all of the latest updates and information will be posted here as they become available.
PLEASE REGISTER (EVEN IF YOU HAVE AN EVENT PASS) – Click Here