The official newsletter of Coosa Lodge — The Red Feather Herald — has had a rocky past lately, but we're working to get that back on track and into a regular publication cycle.  So, without further ado, please let me link you to the September 2012 issue of the Red Feather Herald.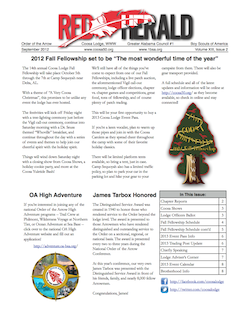 Click here to download the September 2012 issue of the Red Feather Herald. In this issue, you'll find 8 pages full of all kinds of information:
2012 Fall Fellowship Preview
Chapter Reports
2012-13 Lodge Officer Election Ballot
The official schedule for Fall Fellowship
2013 Event Pass Info
2013 Trading Post Inventory Update (We got new stuff!)
… and much, much more!
This is one of the largest newsletters we've put together in a long, long time, and it will be finding your way to your mailboxes sometime this week.  In the meantime, feel free to download, read, and share this digital copy!
Included in the mailed copies of the newsletter will be the 2013 update to the Coosa Lodge "Jumbo Form".  This is your one-stop shop to pay your dues, update your registration and contact info, buy a 2013 Event Pass, or pre-register for lodge events.  If you need an extra copy, click here to download the 2013 Coosa Lodge Jumbo Form.
Finally, we're in need of a dedicated newsletter editor.  If you're a youth member of Coosa Lodge (under the age of 21) and you're interested in working with several advisers and key lodge leadership to craft a quarterly newsletter full of great info, please send an email to key3@coosa50.org and tell them you're interested.