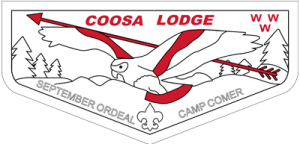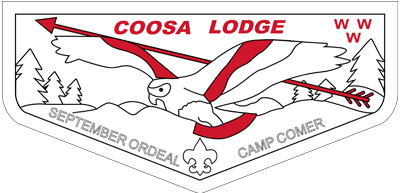 The September Ordeal is this weekend at Camp Comer. Registration opens at 6pm, and things wrap up at 10am on Sunday.  The Ordeal starts promptly at 8pm on Friday. If you can't make that cutoff due to band or football, let us know and we'll try to work with you on a late arrival.
Lodge Officer Candidates: Don't forget that your Lodge Officer Nomination form is due this weekend!
If you intend to run for lodge office, this is mandatory. Form Can Be Found Here
Ordeal Candidates:
If you were elected to the Order of the Arrow but have not yet received your sash, you're an Ordeal Candidate.  Please, take a minute to review our "Instructions for Your Ordeal" info page.  When you get home on Sunday, check out our "After Your Ordeal" page, too!
If you haven't registered, it's not too late! You can pre-register online (use this form) until 5pm on Thursday. After that, you'll have to pay and register on-site.
Brotherhood Candidates:
If you have been an Ordeal member for ten months, it's time to seal your membership in the Order by attaining Brotherhood!
You can find all of the information you need in our Brotherhood Study Guide (click here for password info) or at the OA JumpStart website.
If you're interested in attaining Brotherhood, talk to the registration staff when you check-in at the Dining Hall.  They'll get you squared away.
A few other notes:
Coosa Shows has put together a nice video to set the tone for the candidate as they approach their Ordeal.  Each pre-registered candidate should be getting it today in a special email distribution, but you can check it out here: http://www.youtube.com/watch?v=9X8Pfc0ioEA  This video is also embedded at the bottom of this post.
The forecast says that it'll be wet be chilly this weekend; don't forget a jacket and rain gear.
There will be a new issue from our rubber flap series (pictured above) on sale this weekend!
We're planning to publish a new Red Feather Herald (our lodge newsletter) early next week.  If you or your chapter have anything that you want to include, send it to communications@coosa50.org ASAP.
Finally, as a housekeeping note: Yes, I know that the site has been really, really slow at times lately.  I've been trying to work things out with our current web hosting provider, but it's obvious that we need to find a new home on the 'net.  We're researching options for shared hosting facilities, but we're open to alternatives.  If you can help us find a cost-effective home, please send an email to chris@coosa50.org.
Any questions? Leave a comment here or send us an email and we'll do our best to help you out.