We're a week away from our final Ordeal of 2012! We'll be at Camp Westmoreland, near Florence, AL. Click here for a link to Camp Westmoreland on Google Maps.  Registration opens at 5pm and the Ordeal begins promptly at 8pm. If you are a candidate and can not make this 8pm deadline, talk to our Vice-Chief of Inductions, Will Tidwell (inductions@coosa50.org), and we'll try to accommodate you.
If you've been an Ordeal member for 10 months or longer, it's time to seal your membership by attaining Brotherhood.  Be sure to check out our Brotherhood guide on Coosa50.org (click here for password info) and visit OA JumpStart, then tell the registration staff that you'd like to be a Brotherhood Candidate.
Camp Westmoreland is a primitive camp, so you'll need to bring your own tent.  The weather forecast is looking dry and cool (with nighttime lows in the mid-40s), so plan accordingly.
If you missed the totally updated trading post inventory (We got TONS of new stuff!) at Fall Fellowship, come check it out at Camp Westmoreland.
This will also be the place to get the last piece of the rubber flap set.  Here's a preview: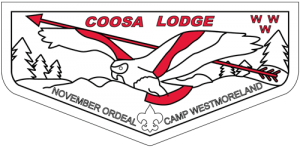 We'll have more info next week.  Stay tuned …