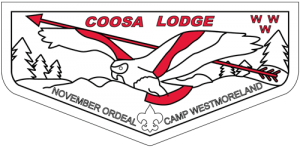 Although there were a few drops of rain, the Ordeal was a success. We now have 81 new Ordeal members in our Lodge along with 22 new Brotherhood members who have sealed their membership within the Order. With the assistance of over 60 members, we managed to clean the trails, maintain the campsites, and further develop Camp Westmoreland. Just one more camp in our council cheerfully served.
Congratulations to Ben Crenshaw for receiving the Vigil Honor!  His Vigil name is "Pohonasin Yuchi Sakima", which translates to "Drumming Yuchi Chief".  Also, congratulations to our new Ordeal and Brotherhood members!
With the November Ordeal in the books, all eyes look forward to 2013.