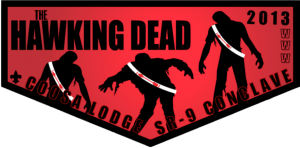 After a long weekend at Bert Adams Scout Reservation, this is what I posted to our lodge Facebook and Twitter feeds this morning:
I don't know about y'all, but I'm having a real hard time getting started today. Must've been a good Conclave. :)
If that doesn't summarize how thoroughly exhausting this weekend was, I'm not sure that anything will.
After a threatening to rain on our entire weekend, the weather cut us a break and most of the rain managed to stay away from camp until everyone was on the road and headed home Sunday morning. It's a good thing, too, because Coosa was everywhere!
Our theme of THE HAWKING DEAD was a huge success with our contingent and it generated a constant buzz across the entire Section. Especially popular were our super-secret, custom-made sheriff badges that were available exclusively to contingent members. These are heavy, metal badge replicas that bear the Coosa Lodge name and logo. They were easily the most sought-after item for the entire weekend.
Another popular addition to the weekend, courtesy of Coosa Lodge, was our HAWKING DEAD booth at the "Tallypo" event after the Saturday night closing arena show. We had a table full of giveaway items (including some Kryponite candy to ward off the Egwa Tawa Dee "Man of Steel" Superman theme!), but the real centerpiece of the booth was our "Zombie Arrowman", who we invited everyone to have their photo taken with. We shot photos non-stop for about two hours.
Imagine our surprise when 2013 National Chief Matt Brown and 2013 Northeast Region Chief Tyler Allen stopped by to meet the man (or what's left of him, anyway)!
It wasn't all fun and games, though. Coosa Lodge won a ton of competitions and awards, including all of the following:
1st Place – Lodge Newsletter
1st Place – Social Media
1st Place – Lodge Website
2nd Place – Where To Go Camping Guide
3rd Place – Lodge Planbook
1st Place – Overall Administration Events
1st Place – Tallypo Booth
Honor Ceremonialists, Pre-Ordeal – Yuchi Chapter (Alex B., Nicholas C., Colin G., and Ben C.)
Honor Ceremonialist, Vigil – Will Reavis
3rd Place – Overall Dance
3rd Place, Fancy Dance – Jeffery Henson
1st Place, Fancy Dance Regalia – Jeffery Henson
1st Place, Straight Dance – Patrick Hayes
1st Place, Straight Dance Regalia – Patrick Hayes
2nd Place, Traditional Dance Regalia – Sam Hardy
And then, to top all of that, our very own Nathan Moore was elected to serve as the 2013-2014 SR-9 Section Chief! Nathan will represent SR-9 at the upcoming National Scout Jamboree in July and the National Planning Meeting in December, plus a bunch of National Leadership Seminar weekends and other events around the Section and Region. He'll also lead the Council of Chiefs as they work together to develop next year's Conclave, scheduled for April 24-27, 2014 and hosted by Aracoma Lodge.
Now that Conclave is in our rear view mirror, we're gearing up for Ordeal season and the first Ordeal of 2013, scheduled for May 17-19 at Camp Comer.  We'll have more info about that Ordeal soon.
Thanks to everyone who helped make Coosa Lodge's participation at Conclave such an unqualified success. Here's hoping we can continue that trend into next year's Conclave!