If you're interested in going to the 2014 SR-9 Conclave at Moundville Archaeological Park in Moundville, Alabama, we're taking registration forms beginning this weekend at the 2014 Coosa Lodge Training Summit!
If you're on the fence, here's some incentive: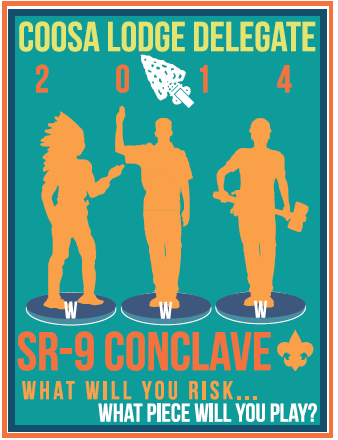 These super-limited delegate patches are in our possession and will be handed to the first 150 people who sign up to go to Conclave. We're planning to take 200 people to Conclave, so your best chance to secure a patch is this weekend! If you print your form and mail it in, it won't be processed until next week, which means you might miss out on this patch.
Click here to download the Coosa Lodge Registration Form for the 2014 SR-9 Section Conclave.
The 2014 Coosa Lodge Training Summit and Winter Banquet is this Saturday at "Top of the Town" (316 2nd Ave SW; above Cullman Savings Bank) in Cullman, Alabama. The cost is $10 per member, which includes training materials, a boxed lunch, and dinner. Registration opens at 8am. Dinner will start at about 5pm.
Click here to pre-register online, even if you have a 2014 Event Pass!