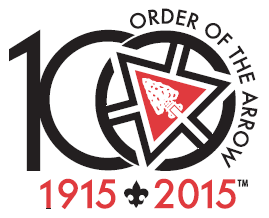 Last summer, the National Order of the Arrow Committee announced a contest, open to all youth Arrowmen, to design a logo for the Order's 100th Anniversary.
Today, we learned that the winning design came from Nathaniel Kelton, a Brotherhood member of Coosa Lodge from Huntsville, AL.
The wheel symbolizes the never-ending cycle of service in our Order and our united rolling forward motion into the next century. The white arrow on the red background represents the special sashes that participants will receive at the 2015 NOAC. Moreover, the three W's formed by the wheel's spokes and the corners of the triangle represent Wimachtendienk Wingolauchsik Witahemui.
For more info, check out today's "News You Can Use" update.