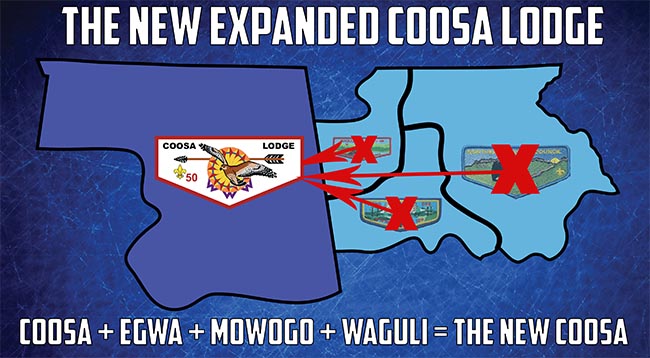 In an effort to answer, once and for all, the timeless question of "Who's the best lodge?!", Coosa Lodge leadership has decided to "put up or shut up" and are announcing today that they have successfully completed the historic takeover of Waguli Lodge, Mowogo Lodge, and Egwa Tawa Dee Lodge.
The takeover is the first of its kind, spanning multiple councils, and will become the single largest lodge in the Order of the Arrow, with a combined membership of nearly 4,000 Arrowmen across dozens of counties in North Alabama and North Georgia.
The new Lodge, which will still be named Coosa, will serve more than a dozen of the best Scouting properties in the country, including Hugh M. Comer Scout Reservation, Frank Spain Scout Reservation, Camp Sidney Dew, Camp Rainey Mountain, Bert Adams Scout Reservation, and Woodruff Scout Reservation.
In a private internal memo, acquired by our staff, Coosa Lodge Chief John Mayhall indicated that this move was inspired by the theme of the upcoming 2014 SR-9 Conclave – "What Will You Risk? What Piece Will You Play?" – and the upcoming inter-lodge Risk board game tournament. Lodge Adviser Ed O'Neal would neither confirm nor deny whether this move was a prelude to further expansion.
When asked for comment, Mayhall and O'Neal would only respond with, "War Eagle!"
We'll have more on this story as it develops.
In related news, today is April Fool's Day and you shouldn't believe everything you read on the internet.
Are you registered for Conclave? It's not too late! Join us at Moundville Archaeological Park in Moundville, Ala. as we come together with the rest of the lodges in Section SR-9 for a weekend of fun, food, and fellowship. Click here for more information on the 2014 SR-9 Section Conclave.