NOAC registration opens this weekend!
The 2015 National Order of the Arrow Conference (aka "NOAC") is August 3-7, 2015 — less than a year from now! — on the campus of Michigan State University in East Lansing, MI.
We have committed to taking 200 people, and your first chance to sign up is this weekend! The final fee has not been set, but we expect it to be between $400 and $600. This includes the national fee ($475), transportation, plenty of Coosa Lodge memorabilia, and other items.
CLICK HERE TO DOWNLOAD THE NOAC REGISTRATION FORM.
NOAC Fundraising Update: Metal Flap Pin Pre-Orders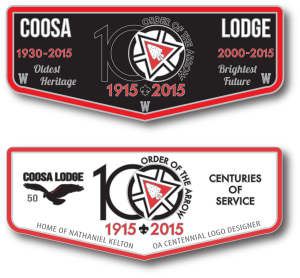 For the 2012 NOAC, our participant fee was actually about $100 below the national fee, thanks to some incredible fundraising efforts, and we're hoping to repeat that success for this NOAC!
In an effort to make NOAC more affordable for Coosa Lodge members, the Coosa Lodge Executive Committee will issue a series of memorabilia fundraisers.
The first in this series is a metal flap pin set. The BLACK background flap will only be sold to Coosa Lodge Members who are dues paid. The WHITE flap will be sold to Coosa Lodge members and members of other Lodges around the country. These will be available for pick up at the Coosa Lodge Fall Fellowship in 2014.
This is a pre-order item we can not guarantee there will be any additional items available for purchase. There are no restrictions on quantities.
Note that these are FULL-SIZE FLAP PINS, not dissimilar from our Vigil flap pins or other full-size metal flaps we've released in the past. These are NOT hat pins.
Those who purchase the WHITE background will receive a certified hand signed certificate for each flap from Nathaniel Kelton, Coosa Lodge Member and the designer of the Order of the Arrow Centennial Logo.