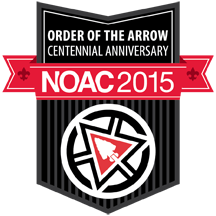 The 2015 National Order of the Arrow Conference (NOAC), which will serve as the centerpiece of the Order's year-long centennial celebration, gets started in just 90 days! (Correction: 89 days.)
NOAC will be August 3-8 at Michigan State University in East Lansing, Michigan. The event is completely sold out, with more than 15,000 staff and participants expected on-site. Every bed in every hotel room or dorm building is booked.
If you haven't signed up, and you're under the age of 21 through August 8th, the good news is that we still have some open slots for you!
That's right — We have almost 30 OPEN youth slots in our contingent! Sorry, adults, but all of our adult slots are booked and we've got a long standby list for any openings that may become available.
National is enforcing a strict 3-to-1 youth-to-adult ratio, so leaving 3 open youth slots means we have to cut 1 adult slot. This means that we MUST fill ALL of our youth slots to avoid cutting more adults from the contingent.
The NOAC 2015 conference fee, set by the National Order of the Arrow Committee, is $475. Coosa Lodge is actively fundraising — through patch sales, auctions, and more — to bring that cost down so that more of our members can attend. If the cost is an issue, there are limited scholarship opportunities available on an as-needed basis. Contact a member of the Key 3 for more information.
If you want to go, you can register online (Click here to register online.) or sign up at the upcoming Ordeal. The current deposit is $300 (that's the initial $100 deposit plus two $100 installation payments) and the final cost will be determined very soon.
There will be a mandatory NOAC meeting on Friday night at the upcoming Ordeal. If you're going to NOAC, or want to go to NOAC, plan on being at that meeting!
If you have any questions, contact our contingent leader, John Mayhall (johnmayhall13@gmail.com) or his adviser, Mr. Mark Hayes (mrkchk50@aol.com).