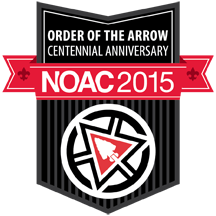 That's right, folks. NOAC registration closes in just five days (May 31, 2015). After that, you'll be stuck sitting at home while you read about what we're doing at NOAC on Facebook and Twitter and Instagram and whatever newfangled social media network all the kids are using.
The 2015 National Order of the Arrow Conference — NOAC — is August 3-8 at Michigan State University in East Lansing, Michigan. The cost for Coosa Lodge contingent members is still being set, but it's expected to be between $350 and $450.
We have just a few youth slots left — as in, 10 or fewer — and they're filling up quickly. If you're a youth member (under 21 years of age on August 8, 2015), you can sign up and immediately fill those slots.
For the adults, we are unfortunately out of slots. There is a long waiting list, however, if you want to sign up and cross your fingers.
Click here to pay your deposit and register online.
Once you get registered, we'll setup your account with the National Order of the Arrow Event Registration System (NOAERS), where you will select training and other activities, download your medical form, and provide some additional information.