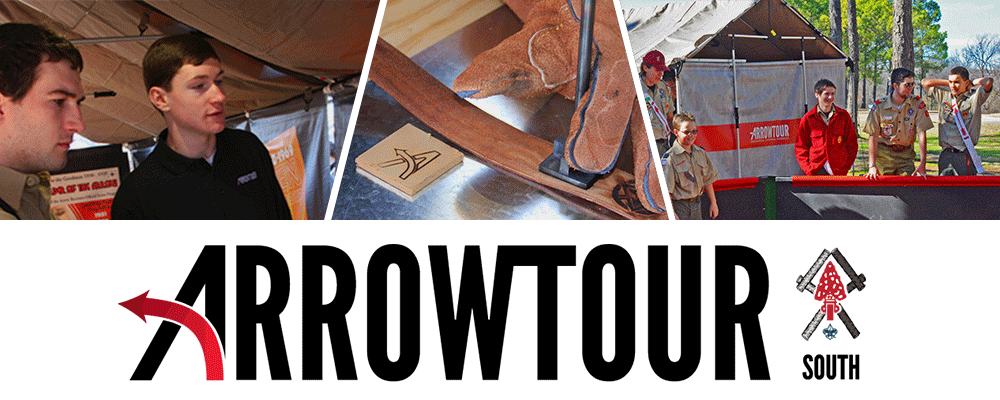 Coosa Lodge and the Greater Alabama Council are excited to announce they will celebrate the Order of the Arrow's centennial as an ArrowTour host. ArrowTour is an interactive event for Scouts, volunteers, and Scouting alumni that will travel throughout the country during the summer of 2015.
ArrowTour will make a stop on July 7, 2015 at Hugh M. Comer Scout Reservation and is open to all registered Scouts and Scouters. You do not have to be a member of the Order of the Arrow to attend!
The purpose of the tour is to commemorate the Order of the Arrow's 100th anniversary. During the event, participants will have the opportunity to learn about the Order of the Arrow, its story, and its future. Some of the program highlights include interactive exhibits, activities such as silk-screening and branding, and challenge games. Participants will have a chance to meet some of the Order's national leaders, and alumni can learn about the Scouting Alumni Association and local alumni efforts to supporting Scouting in our area.
An exclusive ArrowTour Trading Post will carry ArrowTour and OA centennial merchandise. The Order of the Arrow will split the trading post proceeds with the Greater Alabama Council Campership Fund.
The program will conclude with a special show that recognizes the Order's rich history and empowers participants to help shape the organization's future. The Order of the Arrow is creating a truly unique and interactive experience for all Scouts, volunteers, and Scouting alumni.
The tour will open at 3:00 PM CDT and will conclude after dinner. Setup begins at noon and anyone who wants to help setup is invited to do so.
You can find more information about the ArrowTour routes and program on the web at http://arrowtour.oa-bsa.org. You can also keep up with the tour as it makes its way around the country by following @ArrowTour on Twitter.