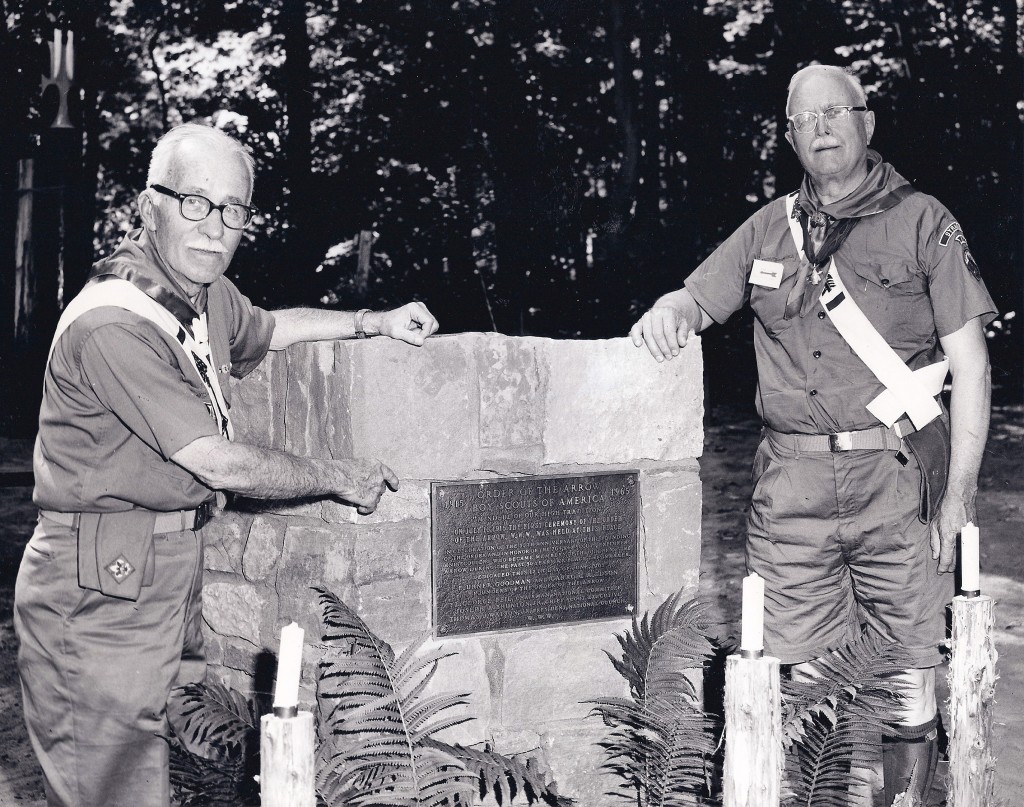 Nearly everyone who reads this knows that 2015 marks the Order of the Arrow's centennial, but only a few of you know that today — July 16, 2015 — marks the exact date that the Order of the Arrow turns one hundred years old.
On that night, at Treasure Island Scout Camp, E. Urner Goodman was the Chief of the Fire. He wore a black robe, similar to a graduation gown. On that robe, he wore a white, triangular badge with a black tortoise superimposed onto it. Carroll Edson was Sachem and wore a black robe, much like Goodman's, with a white, tortoise-shaped badge on his chest.
That night, they inducted the first two members of the Order of the Arrow: Robert Craig and Gilpin Allen, who wore black sashes as part of the original ceremony.
The exact words spoken that night are unknown, and no script of that ceremony has been found, but we do know some of what happened that night. Harry A. Yoder, a staff member at the camp, reported that there were two tests in that ceremony:
The early candidates were handed a bundle of sticks and told to break it. After each had tried and failed, the Chief took the bundle and separating the sticks broke them one at a time with ease.

As a second lesson each scout was told to encircle a large tree with his arms. After each had tried and failed they were instructed to join hands and thus encircle the tree.
George W. Chapman, the first Chief of the Wimachtendienk, would later describe a third test:
The candidate was given a bundle of small dry twigs and told to place them on the Council Fire. When he did this the twigs caught fire readily and blazed up brightly. This demonstrated Cheerfulness.
That night, in the woods of Pennsylvania, no one could have possibly imagined that the Order of the Arrow would grow for a hundred years into an organization of 170,000 members in nearly 300 lodges throughout the world.
No one could have possibly imagined the impact that this organization would have on all of Scouting, or that the first man to walk on the Moon would be an Arrowman. No one could have guessed that, in 1933, President Franklin Roosevelt would be inducted into the Order of the Arrow.
I have developed, over the 19 years since my Ordeal, a very deep love for what was created that night near Philadelphia. Some of my greatest accomplishments have come as part of my service to the Order of the Arrow, and I have met some of my dearest friends. I owe a great debt of gratitude to the founders of the Order and to those who have followed them.
And so, as I am often wont to do, I find myself awake well into the night, listening to the voice of Dr. Goodman.
Here's to another century of brotherhood, cheerfulness, and service.