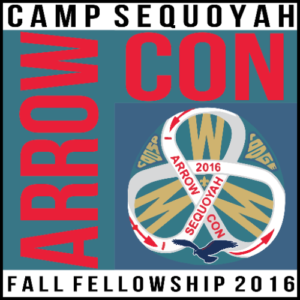 Fall Fellowship — aka ArrowCon 2016 — is just two days away!
Join us at Camp Sequoyah on November 4-6 for a weekend of fun, games, fellowship, and more as we celebrate all that we did in 2016, elect our new slate of lodge officers, recognize our new class of Vigil Honor recipients, and set the stage for an awesome year in 2017.
If you've had your eye on something special in the trading post, be sure to stop by while you're at Camp Sequoyah! I've heard rumors of a "BIG SALE" from the Trading Post team. If there's something you want, now is the time to get it!
This is also your first chance to buy a 2017 Coosa Lodge Event Pass, which lets you pay for an entire year of Coosa Lodge events at once!
Don't forget your jacket!
The overnight lows each evening are currently forecast (via weather.com) for the mid- to lower-40s, so pack accordingly!
We've got football!
If you're coming to Fall Fellowship, you don't have to miss the big game! We'll have SEC football on the big screen in the dining hall all day on Saturday, including Vanderbilt at Auburn, Florida at Arkansas, and Alabama at LSU. Come watch the game with your Brothers!
Program Spotlight: Ceremonies Hub
This year, we're going to add something a little different to the Fall Fellowship schedule. Stop by the Handicraft Lodge (near the Trading Post) during the day on Saturday to visit with the ceremony teams, learn about their regalia, and maybe learn to stitch a bead or two.
If you're interested in starting or joining a team, but you don't know how to get started, be sure to stop by there and talk to some of the best and brightest ceremonial minds in the lodge.
Patch Auction Donations Needed!
Every year, Coosa Lodge holds a patch auction at Fall Fellowship to raise funds for scholarships to summer camp, National Leadership Seminar, National Order of the Arrow Conference, and more. If you would like to donate a patch or other piece of memorabilia, please email Daniel Giles (daniel.giles@scouting.org).