About Coosa Lodge
Coosa Lodge is the Order of the Arrow lodge chartered by Greater Alabama Council #1. It was first chartered in January 1, 2000 as a result of a consolidation between three lodges: Achunanchi Lodge #135, Cherokee Lodge #50, and Kaskanampo Lodge #310.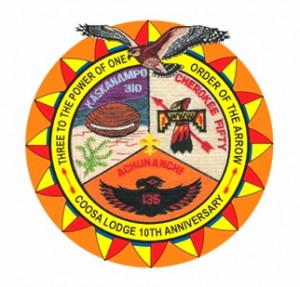 Coosa Lodge was originally assigned to be lodge #50, which had been chartered by the Birmingham Area Council since 1930 and has been rechartered every year since. The National Order of the Arrow Committee decided to discontinue the use of lodge numbers to simplify their record keeping, but many of us still identify with the "50" number.
As a lodge, we serve thousands of Scouts, Scouters, and communities across 22 counties in north Alabama. Many of our American Indian dancers and ceremonialists have received honors and recognition on the local and national levels. Our Shows Committee (aka "Coosa Shows") has received national praise for several of its projects, including a front-page feature on the National Bulletin.