Achunanchi Chapter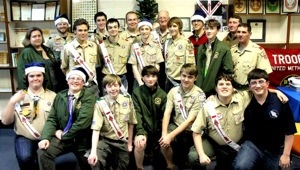 General Information
Our chapter works with the local Choccolocco District of the Greater Alabama Council of the Boy Scouts of America. If you have any questions regarding our chapter, the Coosa Lodge, or the Order of the Arrow in general please feel free to ask. Our monthly meetings are held the second Thursday of every month at Anniston First United Methodist Church in Coleman Hall from 6:30 – 8:00 p.m. Our chapter also has a ceremony team and have our rehearsals bi-weekly on Tuesday evenings from 6:30 – 8:00 p.m.
Achunanchi Chapter 2012-13 Officers
Officer
Adviser
Chapter Chief
Alex East
Mr. Robert Carter (Staff)

and Mr. Joe Garrett
VC of Service
Wesley Cain
VC of Administration
Dylan Clark
VC of Fellowship
Trey Houston
VC of Inductions
John Heintzelman
VC of Native American Affairs
Jeffrey Henson
Immediate Past Chief
Patrick Yim
Contact Us
achunanchi.chapter@gmail.com
The mission of the Achunanchi Chapter is to provide its members with a positive and fulfilling experience within the Order of the Arrow (O.A.) on the local and lodge levels, and being an integral part of the community by serving the purposes of the Order, acting through its mission, and living by the principles of the O.A.: Brotherhood, Cheerfulness, and Service.
Like our Chapter's Facebook page.