Kaskanampo Chapter/Talakto District
WELCOME to…
The Kaskanampo Chapter!
During the Summer months of June and July, we do not meet, due to no Talakto District roundtables being held during June and July,  family vacations, and summer camp conflicts.  Our next meeting will be the 3rd of May, We will be having or SUMMER BLAST PARTY. It will be the funnest chapter meeting we have ever had!!!
We meet the first Thursday of each month (the same time as round-table, 7pm), at Trinity United Presbyterian Church on Holmes avenue right beside the UA Huntville Recreation Center. The OA conducts the flag ceremony to kick-off round-table, then we immediately break off into our meeting.
Our Leadership meeting, Chapter Executive Council (CEC) meets starting 6:30pm just before the regular Chapter meeting. All Chapter Officers (this includes all Chiefs and Vice-Chiefs), Adult Advisers, Chapter Committee Chairs, as well as Troop OA Representatives are invited to attend. Regular Chapter members come and observe, but chapter business and voting is only done by the Chapter officers. If you have any questions please feel free to Contact the Chapter Chief Forrest Evans at forrest@ardmore.net
In May we will be holding Chapter Officer elections and if you want to run for a position you need to be at the May meeting.  You do not have to be currently active in the OA to run for a position but you will need to become an active member for two meetings if you want to hold a position.
We would like to give our chapter's ceremony team a "Job Well Done" because this past Conclave they competed at conclave in the Pre-Ordeal ceremony.  If you happened to miss Conclave…  well you really missed a good time.  Everyone from our chapter who attended had a blast.  So what if it rained a bit (or a lot) on Friday night, Saturday and Sunday were awesome, sunny, fun filled days.  Too much to do in so short of time.  We still need more Ceremony team members!  Contact Tony Hall if you want to join in the fun!
A second congrats goes out to our Pre-Ordeal Ceremony Team, as they provided service to the Lodge during this last May Ordeal by performing one of the Pre-Ordeal Ceremonies.
A Big Congratulations to all chapter members who sealed their membership with the OA by becoming a Brotherhood member, at the recent Summer Camp events.  But now we need you Ordeal members help even more! If you have been ordeal member for at least ten months, come to the any ordeal and seal your membership by participating in the Brotherhood Ceremony! OR, you can let your summercamp staff know, and they will be performing Brotherhood Ceremonies each week at both Comer and Sequoyah all summer long!  (you don't even have to be camping to participate).   If you do this you will be a great help to the Chapter, Lodge, and Region!!!  By helping us reach our Chapter, Lodge and Regions goals.
Our chapter patches (see image below) will be available for sale at each chapter meeting, and at all Lodge functions.
If you wish to conduct unit elections, contact Tyler Belk or Dan Belk to set up a time to conduct these. We will conduct a unit election for as little as one person!
Greater Alabama Council Summer Camps:
Camp Comer
Camp Sequoyah
Out of Council Summer Camps
No matter how old a boy is one of the most memorable things for a Boy Scout is the one week each year that he gets to spend with his peers at a Boy Scout summer camp, where he can earn merit badges or rank. Or the boy can just have fun with all of his friends there and it also can give scouts a break in the mundane life that most teenagers live during their summer break. So come check out what our council has been working hard to make for our scouts to enjoy. Both camps have World Class staff working at them and have profesional cooks, great waterfronts, soaring eagle bound programs, booming shooting sports areas, wicked handicrafts, sweet trading posts, and high pioneering programs. If you have never been to a Council Summer Camp or it has been several years since you have came, come and check us out, 2011 will be the best year for Greater Alabama Council summer camps there has ever been. Scouts Honor. Read below to find out what to do to get us to come and visit you at your toop meeting for us to conduct a camping promotion whether or not you have signed up for a GAC summer camp we want to conduct a camping promotion for you.
Have you already registerd for summer camp? If not invite Kaskanampo Chapter to come to your troop to conduct a unit camping promotion! If you already have signed up for summer camp whether in council or out of council tell Kaskanampo Chapter and we will come and get your kids PUMPED UP for summer camp! The best way to contact us is on facebook at "Kaskanampo Chapter Order of the Arrow", but you can meet us in person at roundtable if you would like, just ask around for the Order of the Arrow guys, or look for anyone wearing a white sash with a red arrow on it!
You can now find us on Facebook @ "Kaskanampo Chapter Order of the Arrow".
You can also click on this link –>

Looking forward to seeing everyone again soon!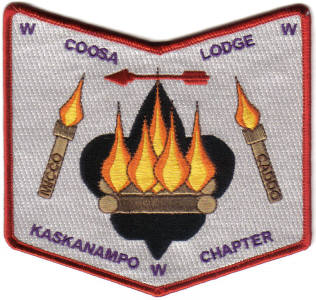 To request access to edit this page, please contact the webmaster at webmaster@coosa50.org.